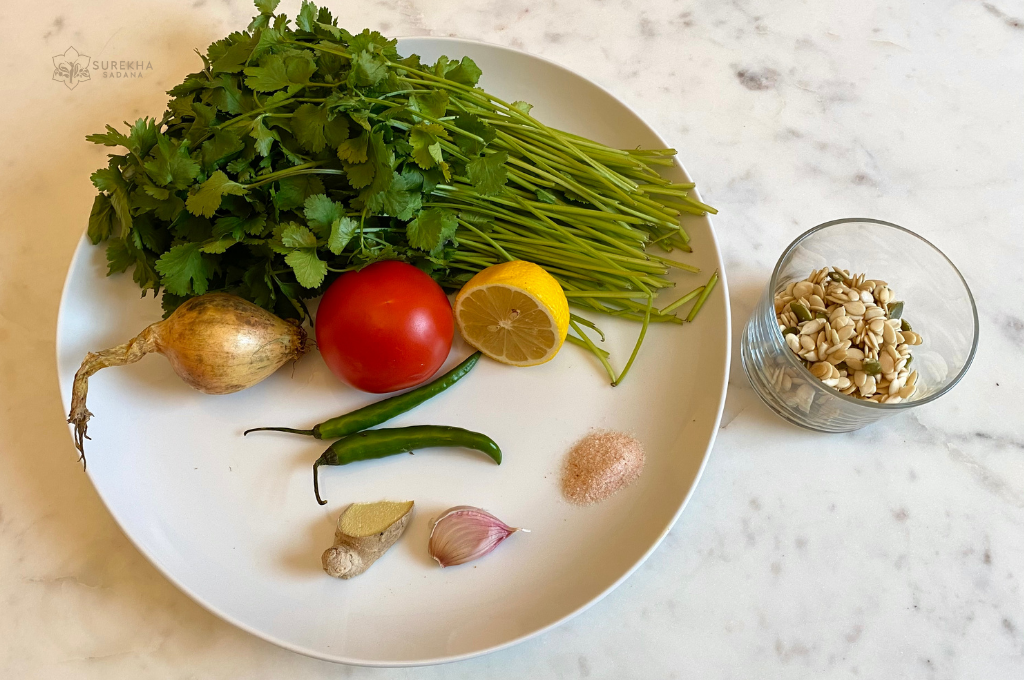 Flavourful Super easy Green chutney
Flavourful Super easy Green chutney
Just by adding this chutney to your all 3 meals, you can get several health benefits.
️High fiber intake️Get rid of constipation️,  Better bone health️,  Immunity boosting anti oxidans️,  Improved gut health️,  Rich in iron & vitamin A
Ingredients
1 big bunch of fresh Coriander /cilantro leaves ( 150 gm) 

1 small onion

1 clove of Garlic

1 inch piece of Ginger 

1-2 green chilly ( depending upon the hotness) 

Soaked mixed melon seeds 2tbs / cashew ( 8-10) 

2-3 tbsp of drinking Water 

1 tbsp Salt or as per taste 
optional
You can add handful of mint leaves to this chutney
Instructions
Chop all the vegetable into small size.

Add all the ingredients into a blender and add water.

Blend till you get coarse/ smooth  paste. (I like to keep it coarse, if you like smooth paste, blend more.)
Notes
Remain fresh for one week in the fridge.
Always store in a glass container.
Why melon seed/ cashew in the chutney?
Adding Melon seeds or cashew maintains the bright green color and gives a creamy texture to the chutney. 
How to use this chutney?
You can eat this chutney with the fritters & patties.
Spread in the sandwich.
Dip for the kabab or paneer tikka.
For jain version-
Just omit onion and garlic, the rest is the same.
Add mint for extra flavor.