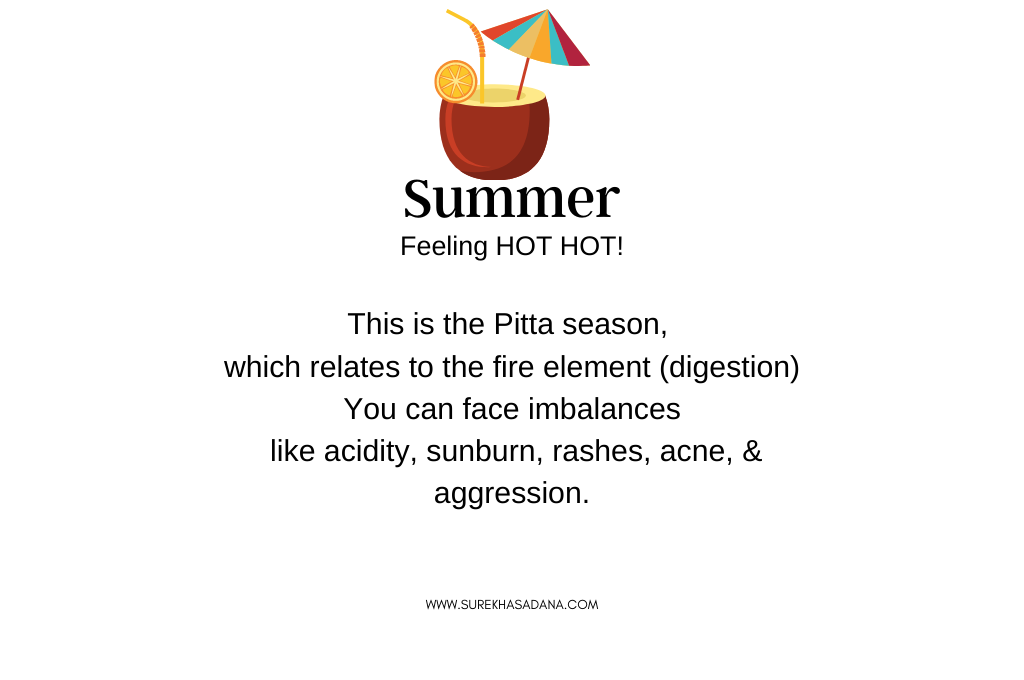 SUMMER
The energy of Heaven meets & merges with the energy of the Earth in this season.
-"Huang Di Nei Jing" ( Yellow Emperor)
Let's know more about the summer energetics & how to keep ourselves COOL. 
Summer is a PITTA  time, so that means a good time to eat RAW,
drink green smoothies, & eat fresh fruits & sales, especially for those with VATA body type.
Just be careful not to disturb the digestive fire with too much cold/frozen food.?
To VATA body type, most spices will support the Agni (digestive fire). Please avoid intensely spicy dishes.
A Vata person might face dry, itchy skin conditions like eczema or dry coughs in this season.
⭐️Pitta body types are those most affected by the summer season.
When their pitta imbalances, they experience hot conditions like heartburn, high blood pressure, fevers, acne, & skin rashes.
⭐️FOOD
Light & cooling, hydrating food is very good for this body type.
Coconut water, green smoothies, raw green salads with avocado, fresh juice, aloe vera, coconut yogurt/kefir.
Soaked gond katira (Tragacanth gum)all help in balancing the heat in the body.
Use lots of cooling spices & garnishes like fennel, coriander, cilantro, lime, &  shredded coconut.
⭐️BREATHING
Practice sheetali pranayama to cool down yourself.
⭐️YOGA
Practice  janu shirshasana (head to knee pose) or utthita parshvakonasana (side angle pose)
both will dissolve the internal heat.
⭐️MASSAGE
Applying coconut oil 30-60 minutes before the bath on the face & the body to cool down your skin.
⭐️MEDITATION
Mindful deep & slow breathing throughout the day is helpful to keep you calm & cool.
⭐️For KAPHA BODY TYPE summer season can be very balancing,
they benefit from hot & dry environments, feel more energetic.
Be careful as  Kapha is constitutionally cool & damp,
so they may struggle with intense heat & find it uncomfortable, even if it's good for them!
What is your body type?
⭐️ Stay tuned to learn how to make this season the best season with SUMMER FOOD recipes,  LIFESTYLE changes.