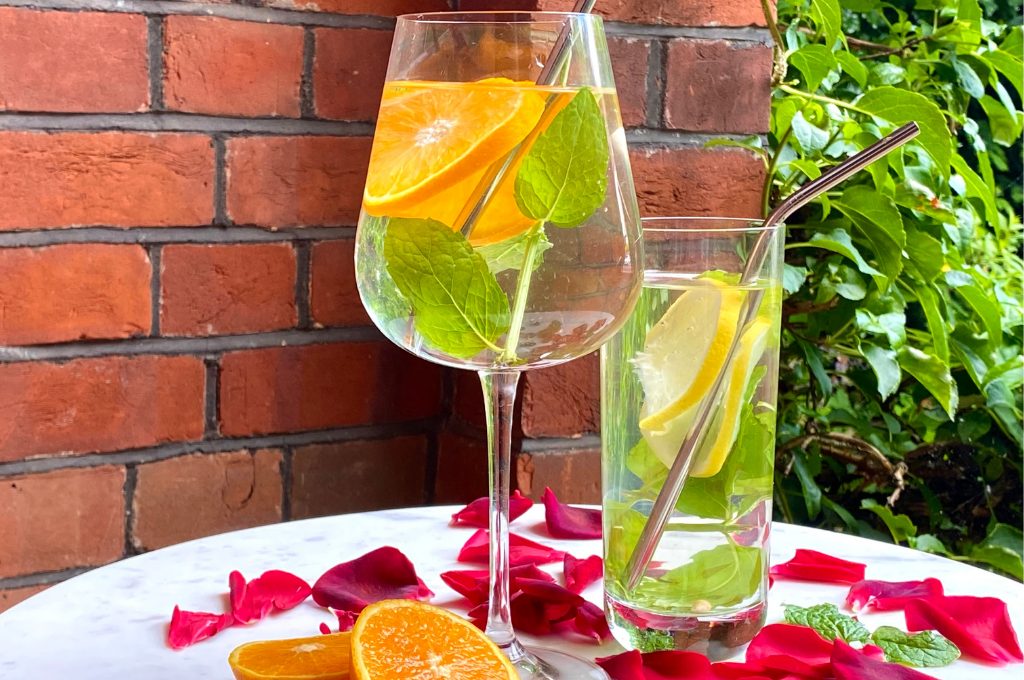 Citrus and Mint-Infused Water
SUMMER
If you get bored with plain water & I don't want to drink sugary drinks!
In that case
Citrus & mint-infused water can be life-changing for you.
These refreshing infusers are a great middle-ground – especially on HOT SUMMER DAYS.
Notes
BENEFITS:
Infused water is a great way for you to get a boost of nutrients quickly and easily.
 YOU OWN HOMEMADE VITAMIN
 BOOST METABOLISM
 INCREASE STAMINA
GIVES YOU A NATURAL GLOW & GOOD SKIN
HELP IN THE  DIGESTION
BOOST IMMUNE SYSTEM
DETOX THE BODY, by flushing out the toxins.
Variation
Orange slices + mint leaves
Lemon slices + mint leaves
Berries + mint leaves
Put in any fruit slices + chopped mint leaves
How long should I infuse the water?
To get the perfect flavor & color, infuse for 2-6 hours depending upon the texture of the leaves/herbs/fruits.
Once they get a bit too soggy, strain them out.
If you like your water really fruity &  tangy in that case infuse overnight or up to 12 hours!
But keep the bottle in the fridge, take out 1 hour before you are planning to drink.
How long do infused waters remain fresh?
The BEST  is to drink the same day.
You can drink your refrigerated infused waters within 3 days of infusing, must bring the water to room temperature before drinking.
How many times can you re-use the fruit in an infused water?
Ideally not
Each time you re-use the fruit in your infused water, you are going to lose flavor.
You can add more water to your container when the water is halfway down.
Should I use hot or cold water?
COLD or room temperature drinking water.
OR Boil water & cool it to room temperature
Is it important to use organic fruit & herbs/leaves?
Yes! Using organic produce is especially important if you are infusing fruits with the rind on/fresh leaves.
Otherwise, you could be drinking pesticide residue.
If you don't have access to organic produce, simply cut off the rinds/ skins of your fruits.
What is the best container for infusing water?
Glass bottle, glass pitcher/jug/earthen pot.