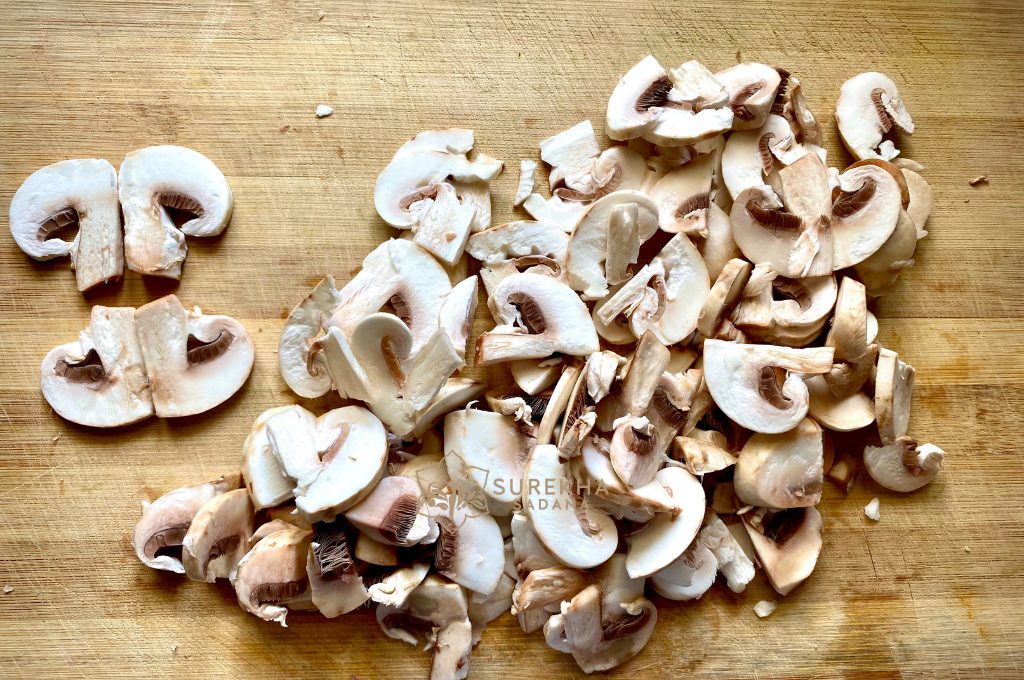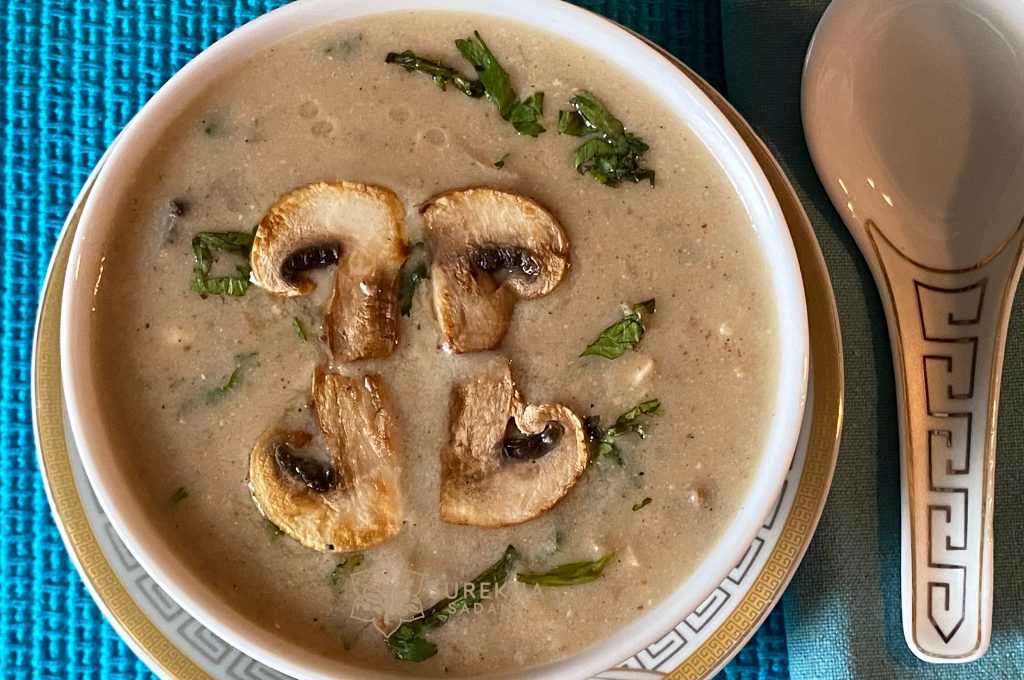 Rich Creamy Mushroom Soup
Rich Creamy Mushroom Soup
Ingredients
️Ingredients (2 soup bowl)
125

gm

mushroom (4 big buttons)

2

tbsp

whole wheat flour

10

overnight/5-6hrs soaked almonds with skin

2

small garlic cloves / 1 big

1

tbsp

Onion

1

bay leaf

2

cup

cup stock water
️Garnishing
Fine chopped coriander

Cooked slices of mushroom
Instructions
Method
Chop the onion, garlic & coriander.
️Prepare the stock/ vegetable broth)
If in a rush use plain drinking water.

(Heat  the water, add washed Vegetable waste like Broccoli & cauliflower stem , beans, green pea pods &  add 1 bay leaf. Cook for 5-10 minutes, and strain)
️Cooking the soup
Dry roast the fine chopped onion, garlic & bay leaf in a deep saucepan.

Add the mushrooms & cook for 3-4 minutes until softened.

Take out the 1/4 cup cooked mushroom & keep aside.
️Blend the wheat flour with 1/4 cup stock water.
Cook the mixture at low flame for 2-3 more minutes.

Mix well with the wooden spatula, as it might start curdling.
️Prepare the almond milk-
Blend the almonds with little stock water, to make the smooth & creamy milk.
️Add 1/4 cup of saved, cooked mushrooms to the blender over the milk , blend again, till you get the creamy texture.
Add this thick mixture to the saucepan, mix well.

Now pour in rest of the stock water.

Cook for another 4-5 minutes.

Take out the bay leaf before serving.
️Garnish with chopped coriander & sliced/ chopped mushroom.
️For garnishing, either pick up 2-3 mushroom from the saucepan/ spare the mushroom slices in the beginning, and cook them separately.
Calories ( 2 soup bowls)
125 gm mushroom (4 big buttons)-28cal

2tbs whole wheat flour-52 cal

Total 155 calories approx