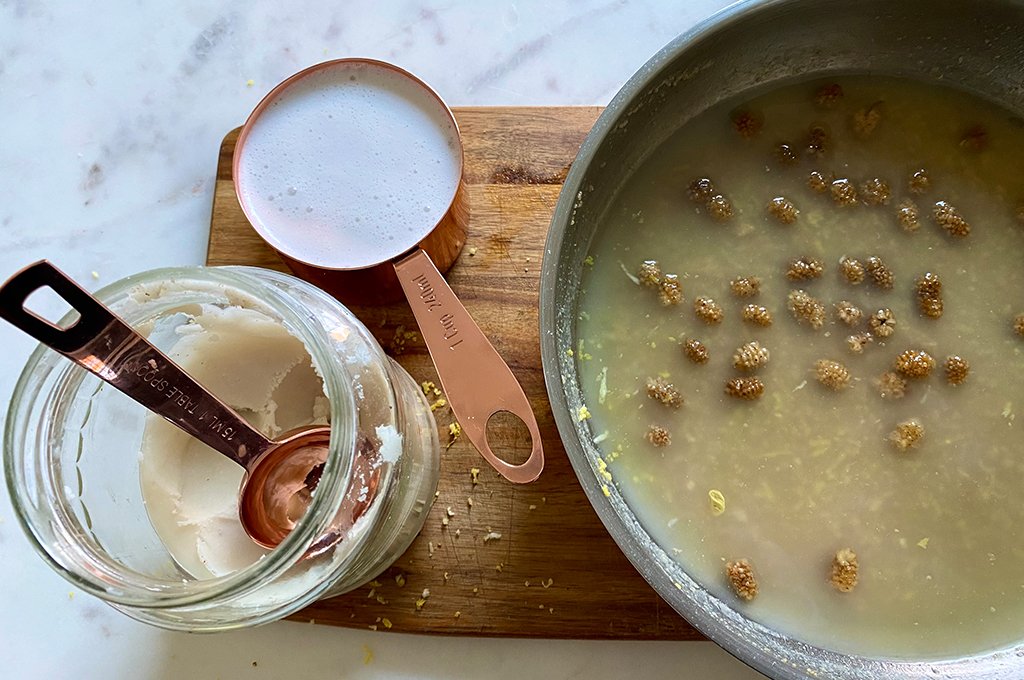 Protein rich Amaranth (Rajgira) porridge
Protein rich Amaranth (Rajgira) porridge
with berry chia sauce/jam ,  Super food , ️ Gluten free️ ,Fiber rich ️ sugar free
Ingredients
️  Ingredients 
1/4

cup

Organic amaranth

1/4

cup

Dried mulberries or as per taste

1/2

cup

Coconut milk/nut milk or as per taste

1

tbsp

Coconut butter

Pinch of Himalayan salt 

lemon juice

lemon rind (organic)
Garnishing 
Pine seed or seeds of choice

chia seds

Berry jam (optional )

Sugar substitute like maple syrup/date paste or as per choice.
Soaking a night before 
Wash the amaranth well and soak  overnight in 1-2 cup of drinking water.

Add few drops of lemon juice to it.

*(Acidic lemon juice break down the anti-nutrients in the grain and the minerals are released making them digestible)
Morning
Cook the amaranth at medium heat in deep vessel, along with  the soaking water.(if amaranth is non organic then use fresh water)

Once it start looking cooked ( about 15-20  minutes) and slimy pour the milk.

Let it mix well and cook for few more minutes.

Add in the butter mix well.

Pour into serving bowl. garnish with chia seeds and rest of the seeds.

Or with berry chia sauce and  the seeds.

Drizzle sweetener of choice over it.
Ingredients
1

cup

Fresh or frozen berries of choice

1

tbsp

Chia seeds

1/2

tbsp

Squeeze of lemon juice
️  Method
While porridge is on the burner you can prepare this sauce/jam.

Steam or cook the berries un till they look soft and cooked.

If steaming, use a deep bowl and steam the berries in it, you do not wants to loose the beautiful  red juicefrom

Mash them well and add rest of the ingredients.

Chia will give an instant thick texture, let it cool down for 5-10 minutes.

Serve