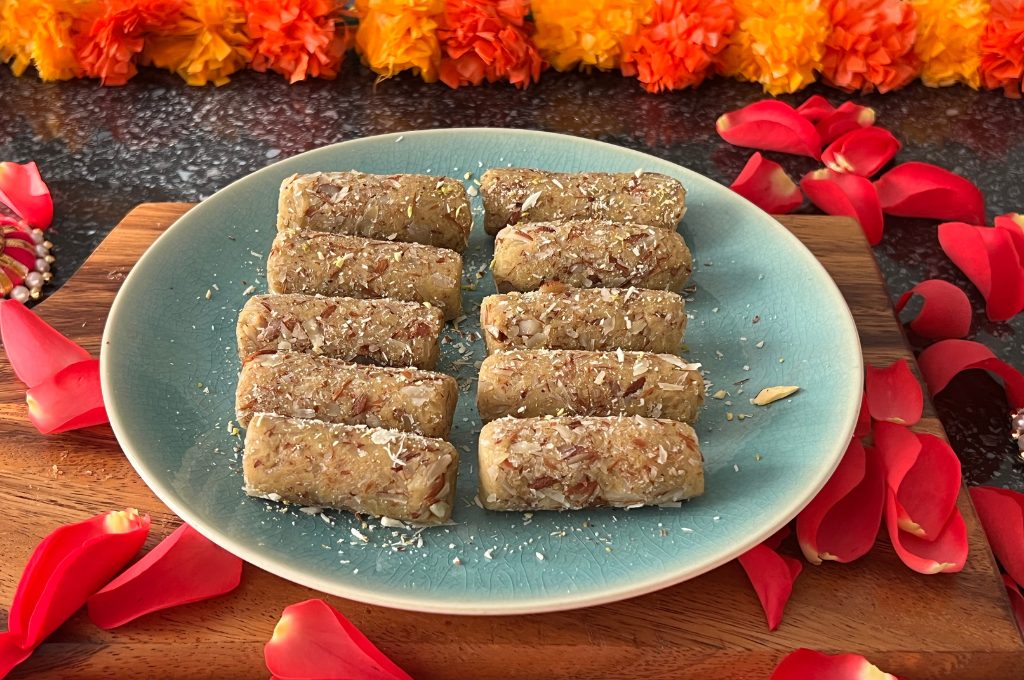 Nostalgic Kesar Peda rolls (Vegan)
Nostalgic Kesar Peda rolls Vegan केसर पेड़ा ( बिना दूध और चीनी के)
Sugar & Dairy freeCreamy & delicious 
Ingredients
Yield- 30-35 peda rolls
1

cup

chickpea flour ( Besan)

1/4

cup

freshly made coconut butter

1 or 1/2

cups

raisins( as per taste)

1

cup

soaked cashew/melon seed or 1/2 cup each

1

cup

water

1

tbsp

fresh cardamom powder

2

tbsp

 or more saffron water ( soaked saffron threads in water)

1/4

tbsp

of Himalayan salt

1/4

tbsp

Turmeric powder
Instructions
Dry roast the chickpea flour at slow heat ( 8-10 minutes ).Roast un till it changes color to slightly brown; stir occasionally. Add coconut butter, cook for 3-4 minutes, and mix well.

In a blender/mixer, add all the ingredients other than garnishing.Blend to make a smooth & creamy paste.

Mix this paste with the roasted chickpea flour mixture. Mix well, and continue to cook for 12-15 minutes at the slow flame until the mixture starts to leave the edges and looks dry & shiny. Add a little bit more cardamom for more flavor at this stage( optional). (The cooking time can be more /less depending on the stove/ pan)

Transfer the mixture to a wide plate. Let it cool down for an hour, and transfer it to the refrigerator for 3-4 hrs/ overnight. ( It divides the work into two days)

Roll the mixture with your hands.Spread the thinly sliced almonds on a plate and roll the peda over it.

️Stay fresh in the refrigerator for up to a week.

If you want long shelf life, use dry nuts and seeds.
Phytic acid in nuts & seeds prevents the absorption of iron, zinc, and calcium, and may promote mineral deficienciesSoaking, sprouting & fermentation reduce phytate content substantially.
Happy Diwali Enjoy with your friends & family.