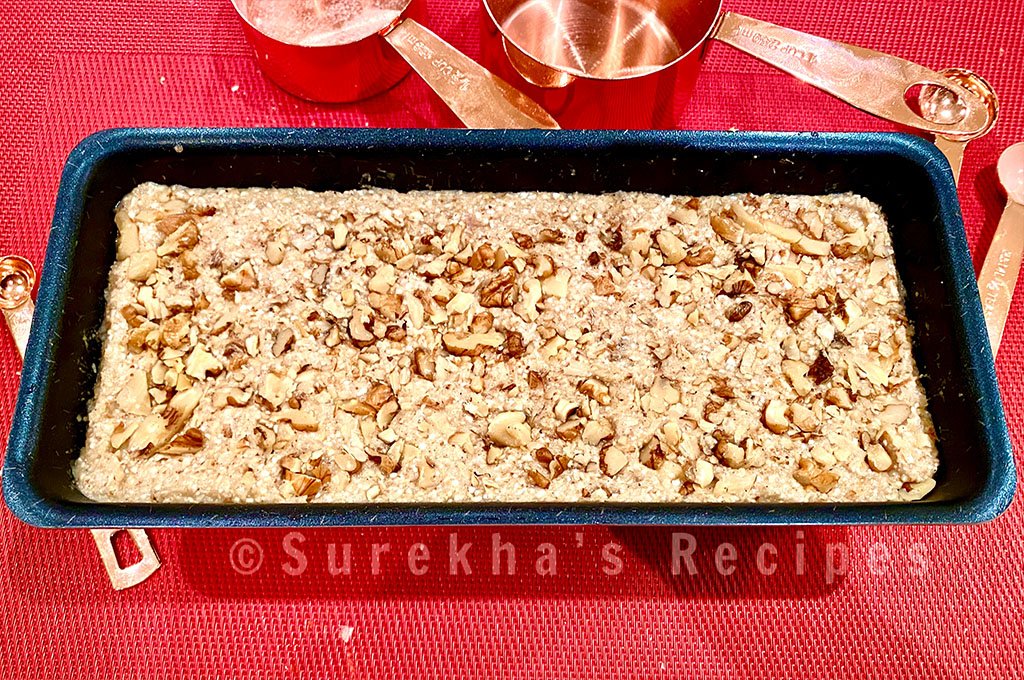 Gluten free Banana Bread loaf.
Gluten Free Banana Bread loaf.
Ingredients
Wet Ingredients
3

Fully ripe bananas (mashed)

1/4

cup

coconut butter 

¼

cup

date paste( as per taste) 

1 flax egg (1tbs  flax powder  + 3 tbs water, mix together, set for  few mins at room temperature)
️Dry Ingredients
1 ½

cup

powdered rolled oats 

¾

cup

almond/ coconut  powder

1/2

tbsp

vanilla powder 

1

tbsp

baking powder

1/2

tbsp

 baking soda

¼

tbsp

Himalayan  salt
️Method 
Preheat the oven to 180 C

Grease an 8-inch loaf pan

Mash the bananas with the fork, until you get smooth paste.

Whisk until well incorporated.

️Now mix all the dry ingredients in a separate bowl, whisk  together until there is no lump or patches remain. 
Mix the dry ingredients to the wet and mix slowly.
Please add coconut/ almond powder at the end, first mix rest of the ingredients. 
️Fold in 3/4 cup of chopped walnuts in the end. 
️Pour batter evenly into prepared pan. Using a spatula, smooth batter into an even layer, sprinkle remaining chopped walnuts. Lightly press walnuts into the top.
️Bake for 50- 60 minutes. 
Test  by sticking a toothpick into the center of the loaf. 

The toothpick will come out clean when the loaf is done.
Most important 
Allow to cool the loaf on a cooling rack for 3-4 hours or as much as possible! 

Lift out, slice and enjoy!
I ate it with the chocolate spread  ( mix of date paste and cocoa powder optional you can add peanut butter or cashew cream)