TOFU MAKING WORKSHOP
September 9 @ 5:00 pm

-

7:00 pm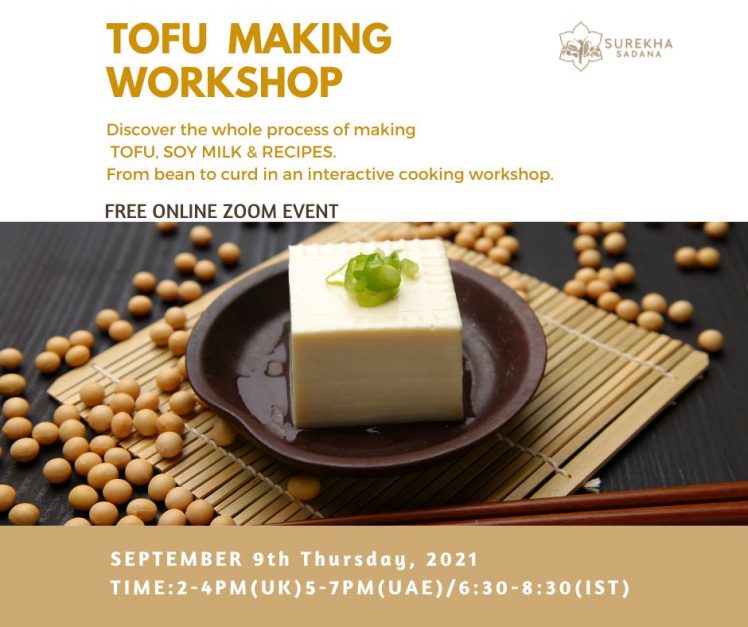 Timings: 2 – 4 PM UK/ 5 – 7 PM UAE/ 6:30 – 8:30 PM IST
Come join me for an interactive Free online workshop where you will learn the process of making TOFU & SOYMILK from organic SOYBEANS.
We will discuss different techniques of making tofu from scratch, as well as explore some simple and tasty variations on cooking it.
Tofu can be soft, firm, or extra firm and used in an endless variety of ways.
Why TOFU?
Tofu is one of the most popular staple Asian foods and is an excellent source of protein for those who live a plant-based lifestyle. It contains all nine essential amino acids (complete protein)
It is also a valuable plant source of iron, calcium, minerals, manganese, and phosphorous. In addition to this, it also contains magnesium, copper, zinc, and vitamin B1.
WHAT WILL YOU LEARN?
* How to make Tofu from Soybeans?
* How to make Soymilk from Soybeans?
* In-depth analysis of benefits of tofu
* Tasty Recipes with tofu
*THIS IS A VEGAN COOKING CLASS*
It will be a cook-along session, so come prepared
HOW TO PREPARE FOR THE CLASS
* Bring Ingredient list
(will provide in WhatsApp before the class)
* Pen/Notebook and happy face 🙂
Followed by Q & A
If you wish only to understand the process and cook later, that ok too

You can ask your question in the follow-up what app group as well.
We are looking forward to our delicious cooking times!
Love
Surekha
CONTACT:
What's app at +971 556621320
Email at hello@surekhasadana.com
Related Events