Kundalini Meditation (Saturday Evening Session)
January 27, 2024 @ 4:45 pm

-

6:00 pm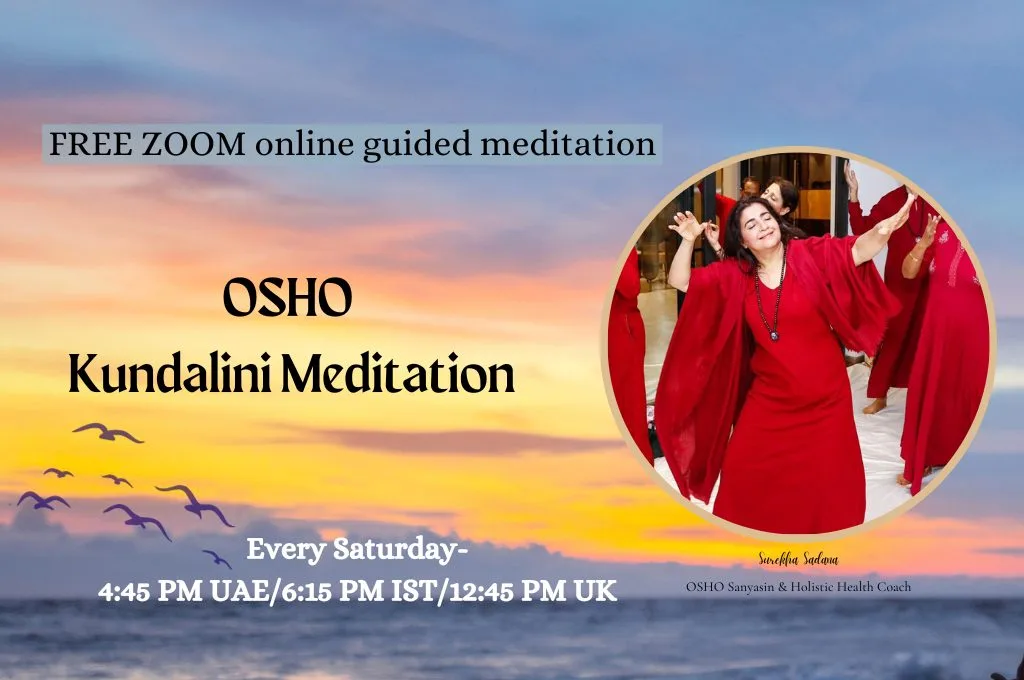 Event Type : Free Zoom, Registration Required
Meeting ID: 863 8210 8643
Timings: 4:45PM UAE/ 6.15PM IST/ 1:45PM BST
4:45 – 5:00 PM – Introduction to the meditation
5:00- 6:00 PM – 1 Hour of Meditation
Followed by Q&A and sharing {Optional}
– Open mind and commitment for an hour
– Yoga mat/ a comfortable surface to lie down
About the Kundalini Meditation ( Active meditation)
Q- What is Active Meditation?
I thought Meditation is sitting in silence/ chanting/focusing on the breath!
A- We all struggling with our deep-rooted suppressed emotion/ unresolved issues / pain/ hurt.
When we sit in SILENCE, these thoughts pop up; it becomes difficult to sit & go inwardly.
In OSHO ACTIVE meditations,
you VIBRATE…DANCE..and suppressed energy move & spread In the body.
The flow of energy turned "UPWARD."
Your rock-like being meltdown, you become
Now the SILENCE comes to You naturally.
**No prior meditation experience required, all are welcome to join**
Looking forward to meditating with you all!
Lots of love & light,
Surekha Sadana 
+971 55 662 1320
Related Events