GROW YOUR OWN MICROGREENS WORKSHOP
July 8, 2021 @ 5:00 pm

-

6:00 pm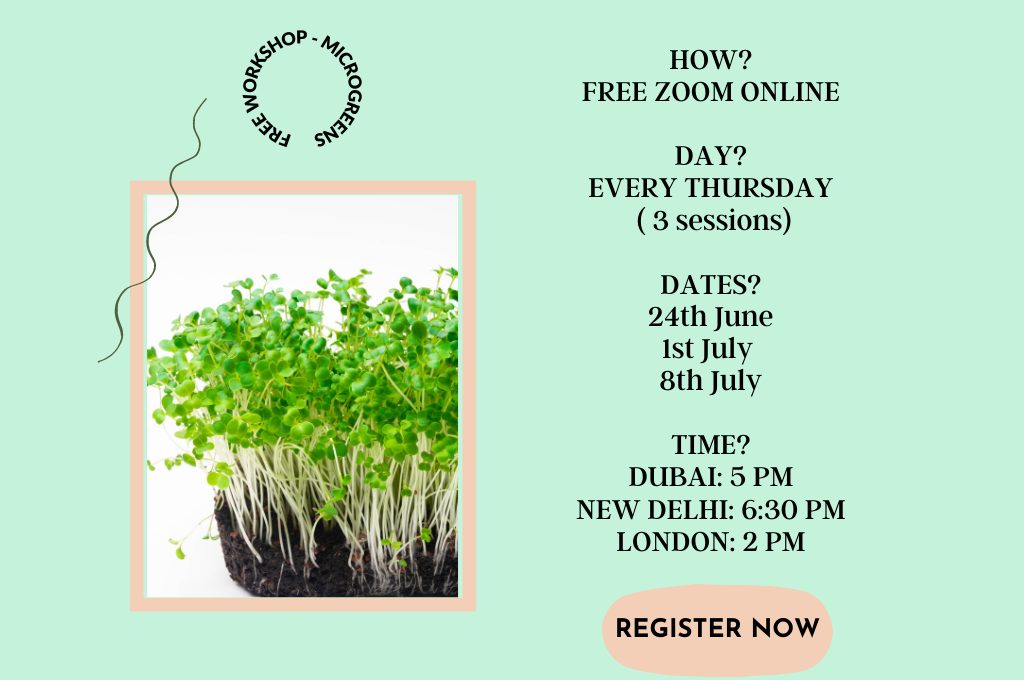 Event Type: Free Zoom, Registration Required
I wish I can source MICROGREENS but I can't get in my city
If I say it's SUPER EASY TO GROW YOUR OWN MICROGREEN.
HAPPY!
Let's learn to grow them in your own kitchen in this FUN workshop.
HOW?
ZOOM FREE ONLINE
DAY?
EVERY THURSDAY  ( tomorrow) 3 sessions
DATES?
24th June
1st July
8th July
TIME?
DUBAI: 5 PM
NEW DELHI: 6:30 PM
LONDON: 2 PM
What will I learn?
You will know all about microgreens-
The benefits of consuming them.
Difference between microgreens & sprouts,
What all I need to grow them?
Method to grow them.
How to take care of your micro-greens?
Which seeds are good to sow?
I will demonstrate, how to grow micro-greens at home in various ways.
How to harvest &  store them?
How to incorporate them to your diet?
At the end of the session, you have an opportunity to clear all your doubts in a friendly Q & A session.
You can join the
SUPPORT WHAT APP GROUP,
TO  SHARE THE DAY TO DAY GROWTH OF YOUR BABIES( micro-greens) and to clear the doubts.
BENEFITS:
Microgreens are known to be full of nutrients & are called superfoods.
They are packed with nutrients.
The tiny little plants deliver a concentrated dose of nutrients & beneficial plant compounds.
May reduce the risk of certain diseases.
They are rich in potassium, zinc, iron & magnesium.
List of the things you need for this workshop if possible, or you can learn in the first session & then collect them.
STANDARD POTTING SOIL MIX ( FINE GRAIN)
GOOD QUALITY SEEDS (ORGANIC )
SMALL & BIG VARIETIES
COCONUT COIR
SEED SPROUTER TRAY
EMPTY FRUIT BOXES WITH LID
WATER SPRAY BOTTLE
HAPPY YOU WITH CHILDLIKE CURIOSITY
Related Events