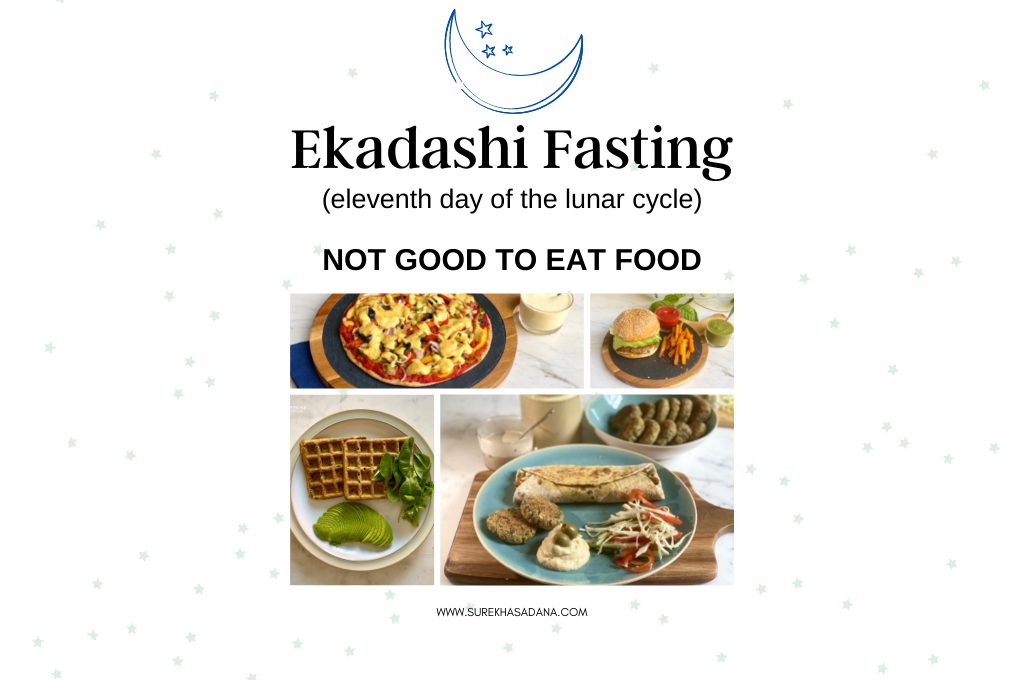 EKADASHI FAST
EKADASHI- (eleventh day of the lunar cycle)
⭐️WHEN TO FAST?
4 days before the FULL MOON DAY
4 days before the NEW MOON DAY 
⭐️HOW TO FAST?
It's 36 hours fast.
*Fasting time starts at 7 pm a day before on Dashmi (10th day of the lunar cycle)
Have your light dinner around sunset preferably without grains.
*The day of EKADASHI fasting day.
*Next day DWADASHI ( 12th day of the lunar cycle) you can break the fast at 7 AM
⭐️WHAT NOT TO EAT ON THE FASTING DAY?
NO-Wheat, grains, millets, barley, corn, rice, oats, etc.
NO-Beans, all types of lentils & pulses.
NO-Animal products, meat, eggs, dairy, butter, ghee, cheese, etc.
NO-Onion, garlic is strictly forbidden on this day.
NO-Alcohol & cigarette.
NO-Idli, dosa, chapati,bread,pasta,macaroni etc.
⭐️If it's possible physically & mentally, try to fast only with warm/hot water.
Sip HOT/WARM WATER  throughout the day.
Do not eat anything, not even fruits/ coconut water.
It has amazing health & spiritual benefits.
The body gets time to heal & rejuvenate itself.
(PLEASE MUST CONSULT WITH YOUR DOCTOR BEFORE OBSERVING SUCH EXTREME FASTS)
⭐️ To know more on WHAT TO EAT ON THE FASTING DAY?
(Please read my previous BLOG to know what to eat on this day.)
⭐️BENEFITS of Ekadashi fast:
(Please read my previous BLOG to know what to eat on this day)
⭐️ According to Yogic understanding
Grains get digested in 24 hours.
1st day-it turn into RASA (Plasma/lymph fluid)
2nd day- it becomes  RAKT (blood )
3rd day-it turns into MAMSA (muscles)
4th day -it into MEDA ( fat/cholesterol)
7days-Ojus/ Viray(SEMEN)
The full moon & the new moon have an immense impact on the mind & heart. (MANN)
On Ekadashi day- if we eat grain, it becomes a toxin because it does not have any life force.
When this grain turns into cholesterol on the 4thday,
(cholesterol makes brain cells) it will have an immense negative impact on the brain.
Brains cells get  weak, which has a negative impact on the pituitary and pineal  gland
It impacts the emotional body, it becomes imbalanced.
On the FULL MOON & NEW MOON day, SUN becomes strong, & the moon becomes weak so its impacts our body.
Grains retain water & the position of the moon impacts all water bodies on the earth, it also applies to the fluid inside our body.
Therefore having rice or grain on this day can have an adverse effect on your health.