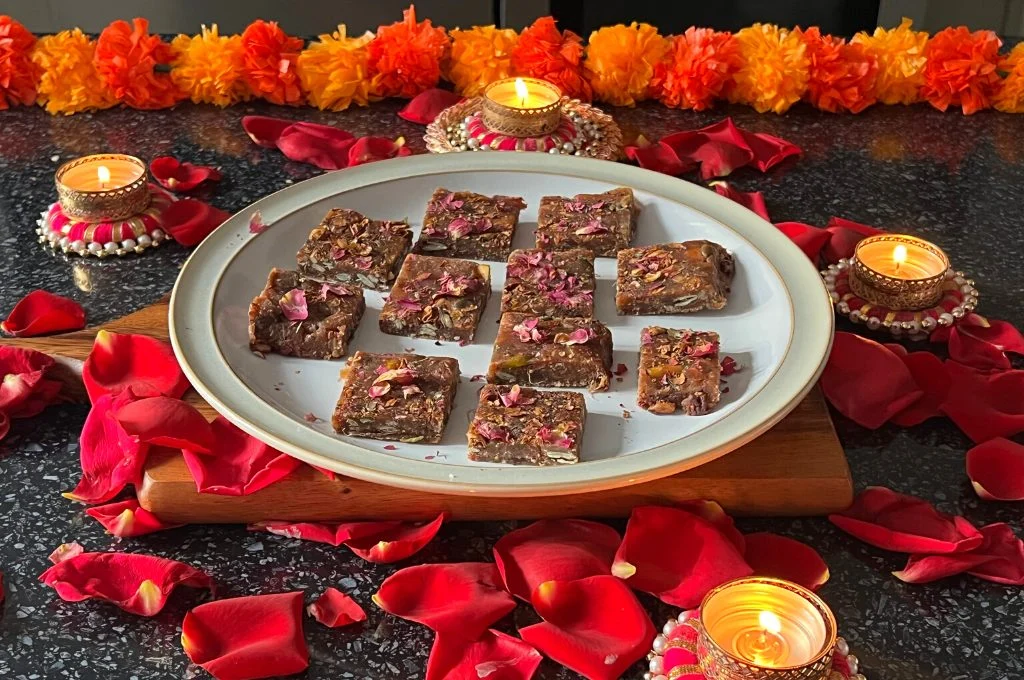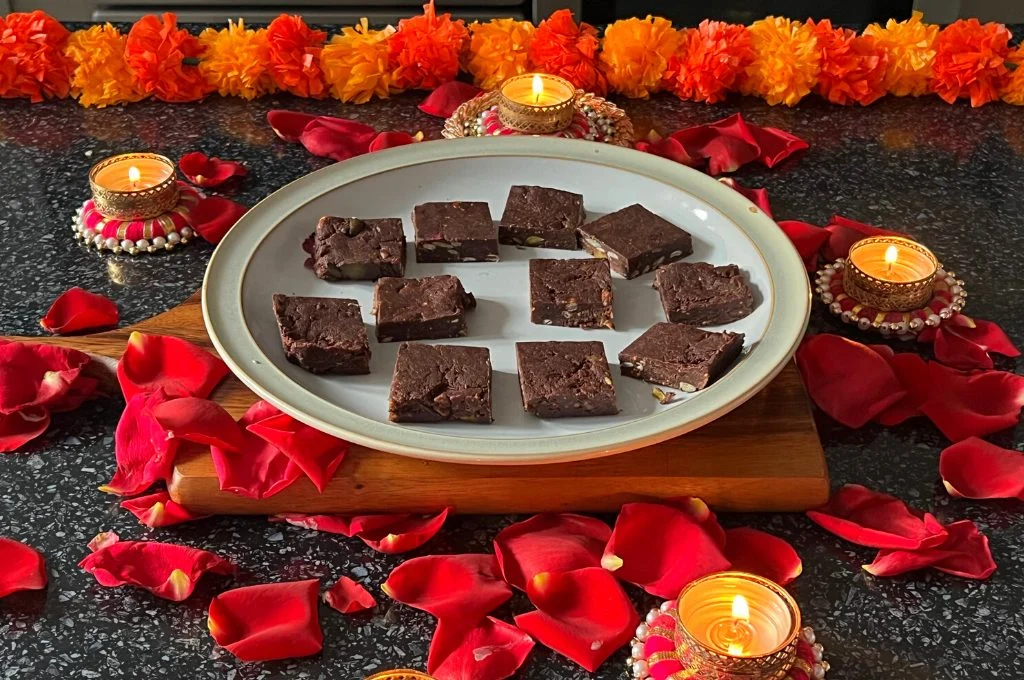 Divine Date (double)
Divine Date (double)
Sugar & Dairy free
Super healthy heavenly delight.
Ingredients
12

soaked

Big soft Majdool dates.

6

dried

big figs/anjeer or 8-10 small-sized dried figs

2

soaked & dried sunflower seeds

2

soaked & dried pumpkin seeds

soaked & dried pistachio/any nut

1-2

fresh cardamom powder

1/4

Himalayan salt

1/2

cup

freshly made coconut butter(recipe on my page)
️Flavors
1-2

dried rose petals (For garnishing & adding in the mixture)

1-2

cardamom powder

2

cocoa powder ( more/ less as per taste)

1/4 or 1/2

Vanilla powder (as per taste)
Instructions
Thoroghly wash( 2-3 times) and soak the dates & figs separately overnight in little water.

Wash the sunflower, pumpkin seeds & pistachio, and soak them separately in the water overnight.

In the morning, strain and wash the seeds & nuts with fresh water.Spread them on a kitchen towel and dry them( Not super dry, do not use them wet)
Tip
I soak the nuts & seeds 1-2 times a week; after soaking & straining,  I transfer them to a glass container and store them in the fridge.

I keep them open without the lid; they become super crisp & dry in a day.Always ready to use/ eat, stay fresh longer too.

Do not throw the Date & fig's soaking water as it's sweet; add little water to soak them.

Place the deseed dates in a pan, and add little soaking water.Chop the figs, and add them to the dates.Cook them at low flame for 10-15 minutes or until they look dry.

Dry roast the seeds & nuts in another pan simultaneously until they look & feel dry.(Do not over-roast them)

Once the mixture looks completely dry, add butter & mix well; cook for 5-7 minutes Now add seeds, nuts, & salt, and mix well.Switch off the heat.
Divide the mixture into two halves-
Add cardamom powder + dried rose petals

Add cocoa powder + vanilla powder.Mix them well, and transfer them to plates.

Make a smooth dough with your hands & spread it on a baking tray( Place parchment/butter paper in a baking tray first)Sprinkle the petals on 1st mixture.

Transfer the tray to the refrigerator for 2-3 hours/freezer (10-15 minutes)Once cool down, cut them into squares.
Notes
Remains fresh for 10-12 days or more in the refrigerator
Enjoy with your friends & family/gift to your loved ones.