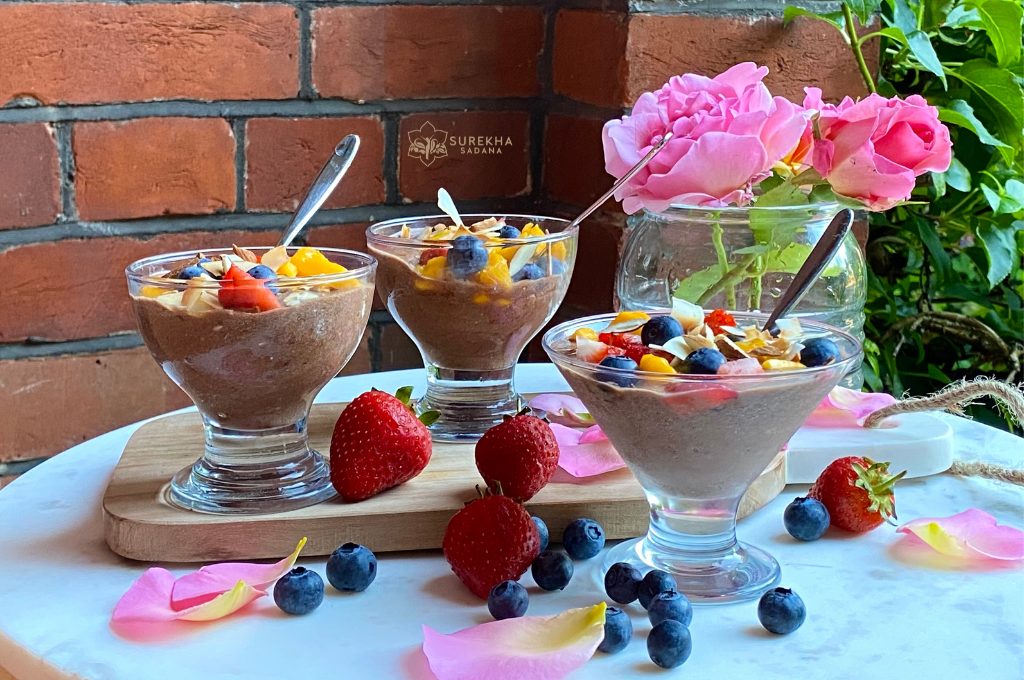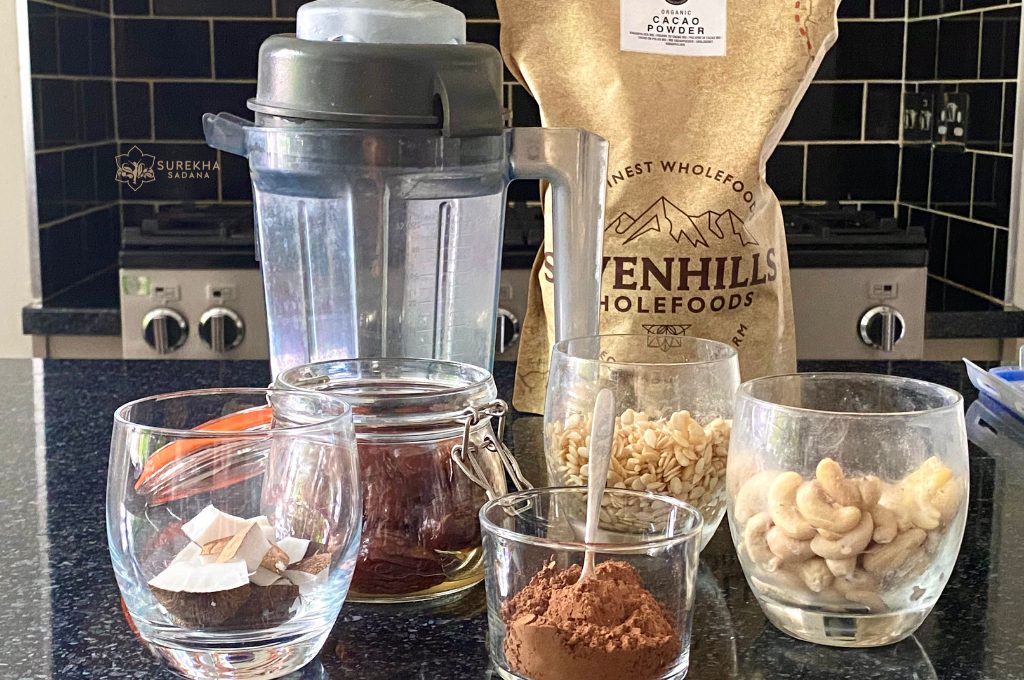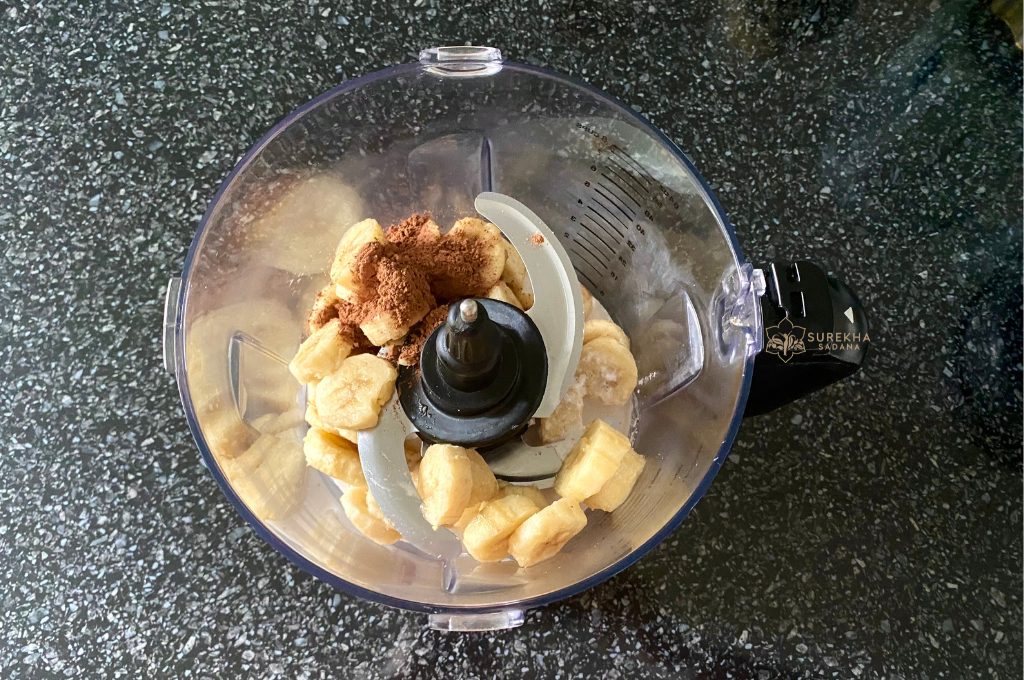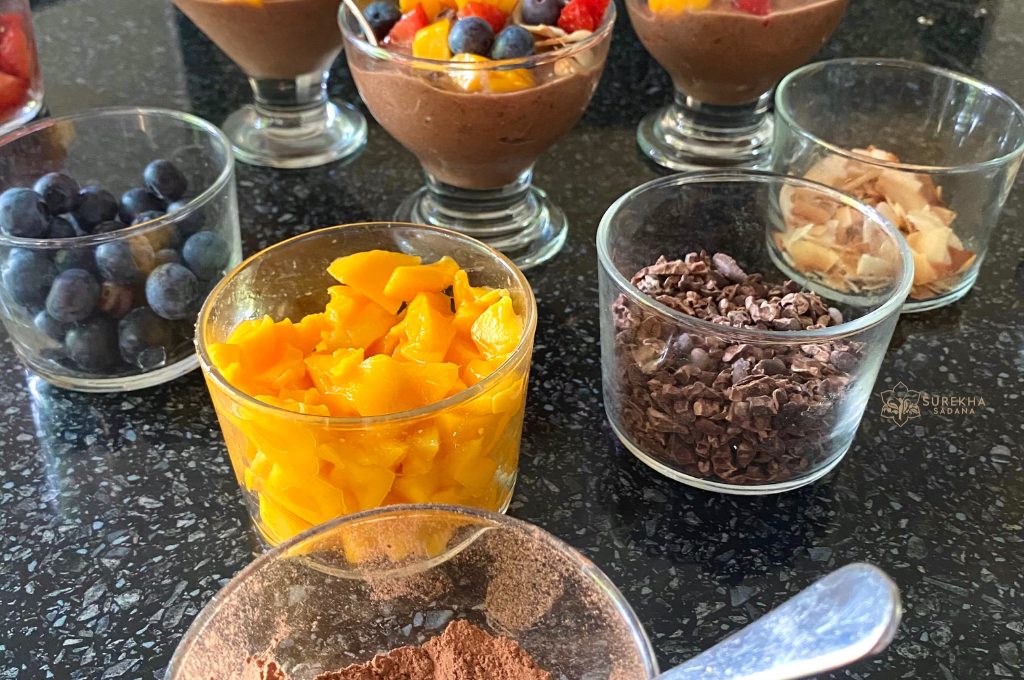 Divine Chocolate Banana NICECREAM
Divine Chocolate Banana
Light on stomach
Mouthwatering & naturally sweet
Guilt-free & Super easy to make
Ingredients
2

Frozen banana sliced

1

tbsp

cacao/cocoa powder

as per taste

1/4

tbsp

 vanilla powder

Optional

1/4

cup

nut/ seed/coconut milk

A pinch of Himalayan salt

*1-2

Soaked Medjool dates

( optional) you don't need it actually!
Toppings
Freshly chopped fruits

(Mango /berries)

Roasted sunflower/pumpkin seeds/ sliced almond/coconut shavings

Cacao nibs

(optional)
Instructions
Freezing of bananas
Let the bananas ripen before peeling.

Do not use them until they look brown & spotty ( inside should be white )

Fully ripe bananas are sweeter,& give a delicious caramelized flavor.

Not-overripe bananas will have something of an earthy taste, & they will not be as sweet as fully ripe ones.

Once ripe, peel the bananas, cut into thin slices, & freeze them.

Once you have fully frozen bananas ready follow the next step.
Milk
If you like very thick ice cream then you can avoid this step & blend the frozen bananas.

Blend 1x2 inch piece of fresh coconut or optional mix 1tbs of soaked melon seeds to it.

Add 1/4 cup or less water, blend till you get the thick creamy milk.

You can use 8-9 soaked cashew to make milk.
After the Above
Toss the frozen banana slices into a food processor / high-quality blender (such as a Vitamix)

Blend until you get a consistency of soft-serve ice cream.

Add  1/4 cup MILK TO THE BLENDER IF YOU WANT EASY BLENDING.

Add cacao/cocoa powder+ vanilla powder to the blender, blend for few seconds.

Pour in the ice cream bowl, add the toppings. Enjoy

You can eat it immediately ( I like that way)

Or scoop it into a container, freeze an additional 15-20 minutes.

This will give you a firmer banana ice cream texture.
Notes
VARIATION:
You can make plain banana ice cream without any flavor.
Add peanut/any nut butter for a rich & luxurious taste.
With the same method & variety of frozen fruits, you can create new flavors.
My favorite is MANGO, BANANA & STRAWBERRY.
Layer them & add toppings, heavenly delight!
WHO LIKES ICECREAM?