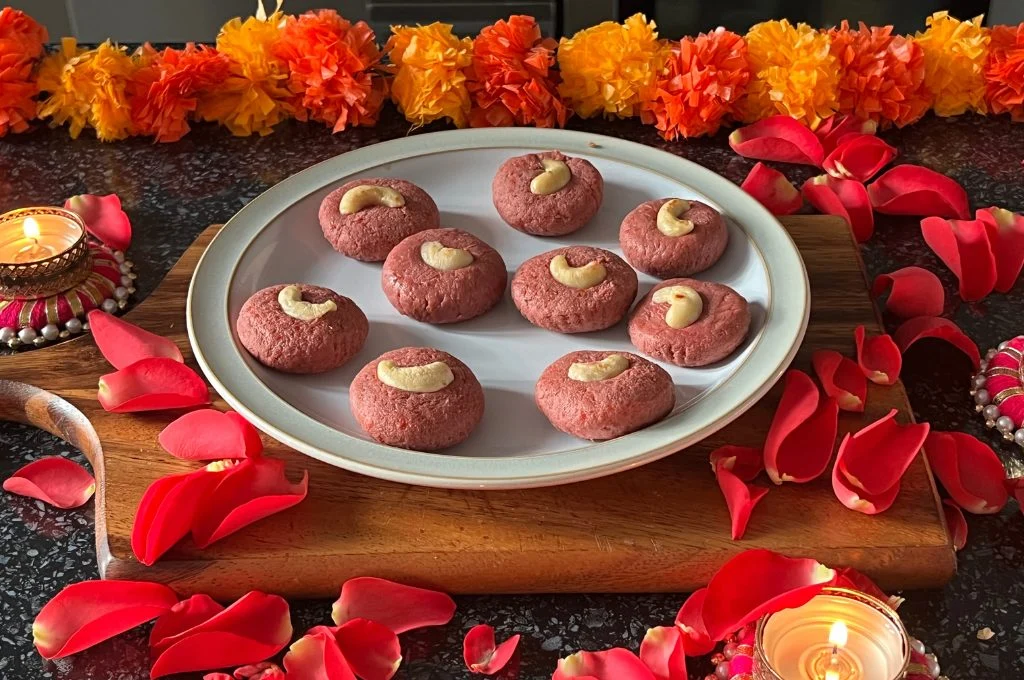 Delicious Carrot Peda
Delicious Carrot Peda
Sugar & Dairy free Healthy & with natural coloring
Ingredients
4

medium

size carrots

1/4

cup

freshly made coconut butter (Search recipe in the dairy alternative section)

1  or 1 + 1/2

cups

raisins (as per taste)

cup

of any soaked almond/ cashew/ melon seeds

3/4

cup

water

2

steamed beetroot with 1tbs of boiling water

1/2

cup

roasted lotus seed powder

cardamom powder

1/4

of Himalayan salt

1-2

of food-grade organic rose water

Garnishing

Roasted

cashews, cut into halves.
Instructions
Grate the carrots, and dry roast at slow heat with a closed lid for 10-15 minutes/ until water evaporates.

Chop and steam the beetroot till it becomes soft.

(Blend with little water to make a smooth paste.)

In a blender/mixer, add a choice of soaked nuts, raisins, water, cardamom & salt.Blend to make a smooth & creamy paste.

Add beetroot paste to this, mix well & cook.

Add coconut butter to the mixture & cook for a few minutes until the mixture looks dried up.

Dry roast the lotus seeds in a pan; once cooled down, grind them to make powder.

(Add the powder to the mixture.Mix well, and continue to cook for 5-7 minutes at slow flame until the mixture starts to leave the edges & looks dry.)

Add rose water for flavor, and cook for a minute.

Transfer the mixture to a wide plateLet it cool down for an hour & transfer it to the refrigerator for 3-4 hrs/ overnight.

Once cool down, give them desired shape & garnish.Serve with love/ gift to friends &  family.
Notes
Peda can stay fresh for around a week in the refrigerator.
If you want longer shelf life, in that case, use dry nuts/ seeds powder & raisins.
Food color/ dyes are potentially toxic for humans.
It can cause cancer, asthma, eczema, insomnia, and hyperactivity in children.
Please use natural coloring powders/extracts like turmeric, cacao, spirulina, beetroot & saffron.