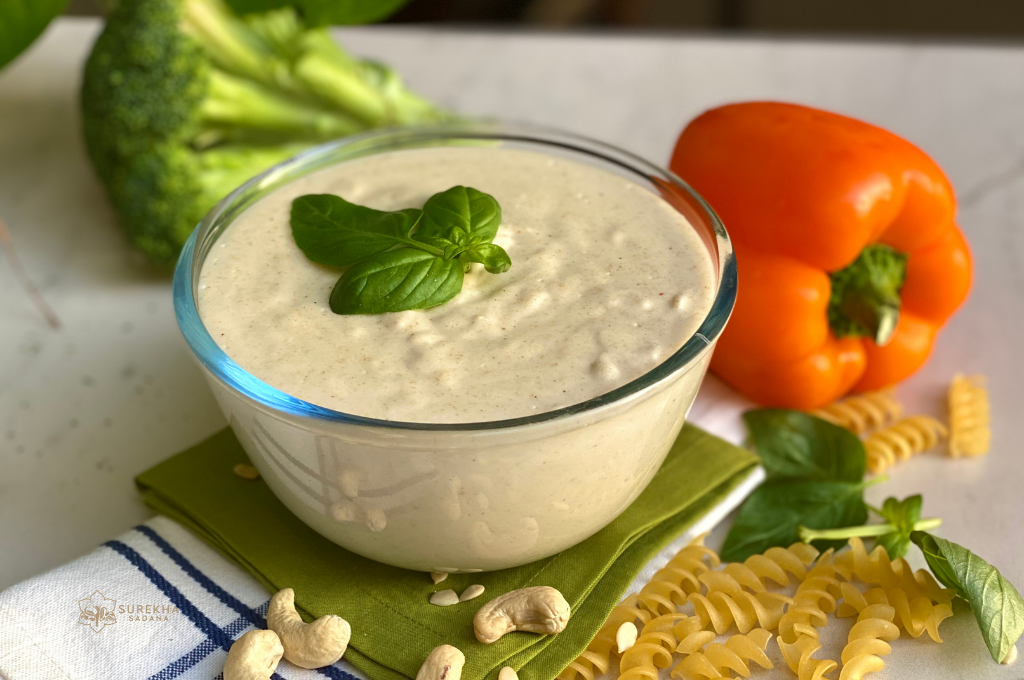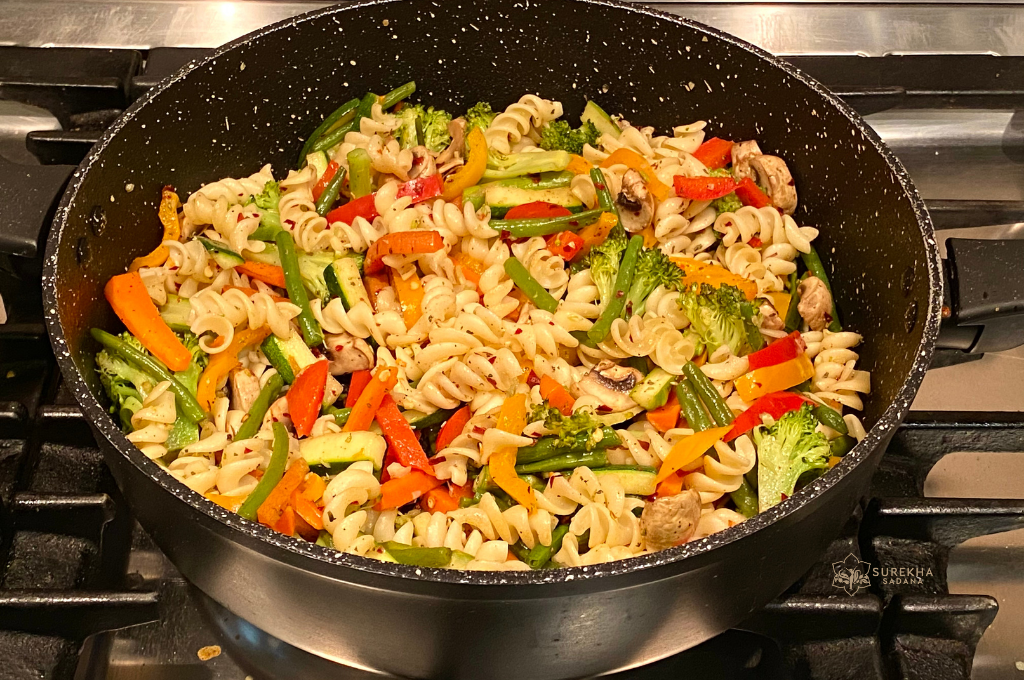 Delectable Fusilli Alfredo aka white sauce pasta
Delectable Fusilli Alfredo aka white sauce pasta
Ingredients
Fusilli Pasta
2

cup

cooked choice of fusilli quinoa / whole wheat
Vegetables
1

cup

broccoli

1/2

cup

french beans

1/2

cup

carrot with skin

1/2

cup

fresh mushroom

1/2

cup

mixed bell pepper

1/2

cup

zucchini

1-2

sticks

asparagus

1

clove

garlic

1

tbsp

celery

Fresh basil leaves 
Spices & herbs
Himalayan salt

Red chilly flacks

Black pepper

as per taste.

2

cups or more

 Alfredo (white sauce) sauce

Get the detailed recipe of the sauce in the pasta recipes section
Garnishing
Fresh basil leaves

Dairy-free Parmesan cheese

optional 
Instructions
Finely chop celery & garlic.

Prepare alfredo sauce as per the instructions; keep it aside.

Boil the water (1 liter or more) and add fusilli to it.

Cook till it looks 'al dente' ( "to the tooth"); it should not be overcooked.

Steam all the veggies, keep them firm

 ( undercooked/ half cooked)
Preparing the fusilli pasta
Heat the big broad pan, dry roast the garlic and celery, cook for 2-3 minutes.

Add steamed vegetables & fusilli, mix softly, add all the spices and herbs.

Pour ready alfredo sauce over it, mix and cook for 2-3 minutes.

Taste the salt & pepper flavors etc.

Garnish with basil leaves & parmesan cheese (optional)
Notes
Home-made sauce
Oil-free
Dairy-free
With whole ingredients
Why so many veggies?
Vegetables are an important part of a healthy diet.
Variety is as important as quantity.
No single vegetable provides all of the nutrients you need to be healthy.
Eat plenty every day.️
They help in lowering blood pressure.
Reduce the risk of heart disease and stroke.
Lower risk of eye and digestive problems.
Have a positive effect on blood sugar.